Atlantis The Royal is an unparalleled destination located on the crescent of The Palm next to Atlantis, The Palm. A new iconic landmark, the resort surges 43 storeys high and is crafted by the world's leading designers, architects and artists. Created for the discerning guest with a desire and appreciation for luxury, the resort is built upon an attentive and personalised service philosophy that is delivered in an exclusive environment, unlike anywhere else.
Crowned by a 90-metre sky pool, Atlantis The Royal features a collection of elegant Rooms, Suites and Signature Penthouses featuring stunning views of the Dubai skyline and Arabian Sea. As well as 17 world-class restaurants- including more celebrity chef restaurants than anywhere else in the world, additional awe-inspiring experiences include fountains that breathe fire as well as the region's most comprehensive wellness facility, offering curated holistic, aesthetic and science-based treatments. Presenting an endless stretch of private beach and pools overlooking the vast horizon, the views alone ignite the senses. Guests are taken on a journey of surprise and discovery, with artful masterpieces, iconic entertainment and beautiful craftsmanship at every turn.
Welcome to the place where something wonderful happens at every moment of every stay. Atlantis The Royal is a world beyond.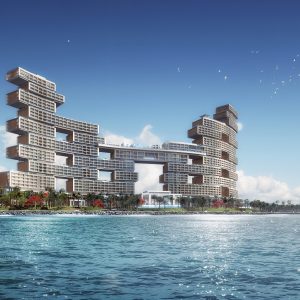 IN NUMBERS
Building start date: 2016
Size: 406,000 square metres
Site area: 173,210 square metres
Height: 43 storeys high/178 metres tall
Rooms: 795 Guest Rooms and 102 Suites, including 44 Suites and Penthouses with private infinity pools
Swimming pools: Over 90 pools
Restaurants and bars: 17, including 8 by celebrity chefs
Beach: 2kms
RESORT FEATURES
Guest Rooms & Suites: 795
Suites: 102
Signature Penthouses: 6
infinity pools: 44 (38 Sky Pool Suites & 6 Signature Suites)
Accessible Rooms: 8
Accommodation floors: 83 (over 3 Towers: Sunrise, Sunlight, Sunset Towers)
Royal Club Lounges: 2 (Royal Club Sky Lounge (Adults only) and Royal Club Sea Lounge (Family friendly)
Royal Beach
One of the largest jellyfish tanks in the world (4,000 jellyfish)
24-hour Reception
24-hour Concierge
24-hour Room Service
The Skyblaze Fountain –The world's first water meets fire show
Cloud 22 Sky pool
Outdoor swimming pools: 2
Restaurants, Bars & Lounges: 17 (8 helmed by celebrity chefs)
AWAKEN Wellness – A 5,000m2 holistic spa and wellness area including fitness, steam and sauna facilities, and indoor and outdoor pools 
Aquaventure Waterpark – The world's largest record-breaking waterpark
The Lost Chambers Aquarium
Dolphin Bay
Sea Lion Point
Atlantis Sunshine Kids Club – Ages 4-12
Babysitting services
Helipad
Limosine services
Retail shopping
Business Centre & Meeting rooms
Conference & Events facilities
ICONIC USP'S
Designed by one of the world's most pre-eminent architecture firms, Kohn Pederson Fox Associates (KPF)
795 Room resort which surges 43 storeys high with unparalleled views over the Arabian Sea and Palm Island
6 Signature Penthouses – the most exquisite stay experiences in the world
231 ultra luxury Residences with private elevators and pools
Luxury interiors designed by Sybille De Margerie, one of the world's leading interior architects
Home to 93 swimming pools in total across the resort and residences, including a 25-metre lap pool, adult pool, family pool, dynamic Cloud 22 sky pool, 44 Suite infinity pools and private resident pools
Water features and Skyblaze Fountain, the region's first fire meets water spectacle, created by WET Design
Largest privately-owned stretch of continuous beachfront in Dubai at over 2km
Lobby sculpture 'Droplets' – an original artwork at 11.5 metres tall, consisting of 5.5 tonnes of stainless steel, representing the first cool drop of rain in a dry desert
Home to 4 large aquariums in the lobby and lobby bar, holding a total of 600,000 litres of water
The lobby bar features the world's largest jellyfish tank with over 4,000 jellyfish
Atlantis Dubai is a premier dining destination with the largest collection of celebrity chef branded restaurants in the world, sharing a total of 50 restaurants across both properties, with Atlantis The Royal home to 17 restaurants featuring 8 headed by celebrity chefs
AWAKEN Wellness – a 3,000m2 world-class holistic spa and well-being experience, with Hammam Sensorium, hypnotherapy treatments, halotherapy salt caves and snow sauna
The world's largest waterpark, Atlantis Aquaventure, voted number 1 in Europe and the Middle East
One of the world's largest open-air aquariums, The Ambassador Lagoon, home to 65,000 marine animals
ARCHITECTURE & DESIGN
Operator: Kerzner International
Architectural Designer: Kohn Pedersen Fox Associates
Lead Architect: IBI Group
Water Features: WET Design
Residential Interiors: Sybille de Margerie
Hotel Interiors: GA Design
Construction: Six Construct and Ssangyong
Structural Engineer: Arup (Competition); WSP (Building Phases)
MEP Engineer: Arup (Competition): WSP (Building Phases)
Lighting Designers: Light Touch
Landscape Designers: SKS Studio and 40NORTH
Building start date: 2016
Size: 406,000 square metres
Site area: 173,210 square metres
Materials used:

90,000 square metres of glass (the equivalent to 10 FIFA football fields)
220,000 cubic metres of concrete
2,400 piles across the site, some as deep as 45 metres
45,000 tonnes of steel rebar
5,500 tonnes of structural steel
150,000 square metres of marble
CONCEPT
Kohn Pedersen Fox Associates (KPF)
One of the world's most preeminent architecture firms, Kohn Pedersen Fox Associates (KPF), based in New York City, is the lead architect on the project. Recognised for excellence and innovation and driven by design, KPF creates buildings that demonstrate an extraordinary degree of craft and detail, elevating them to the highest levels of beauty and practicality.
The design of Atlantis The Royal rethinks the conventional concept of the 'iconic tower' and its role in the skyline of the rapidly growing city. Rather than focus on form only, the building centres on extending the idea of indoor-outdoor living. This idea is transcended vertically into a 500-metre-long, 178-metre-tall mega structure, operating as a permeable screen porous to people, light and air. Atlantis The Royal was conceptualised as the 'deconstruction' of the traditional sculptural towers associated with Dubai, taking the form of a stack of individual blocks, each offering a bespoke private experience off of a single core. The individual series of blocks enhances the convenience of luxury and amenities for residents and guests, in what seemingly feels like a smaller and more intimate setting. The gaps between become outdoor courts, naturally ventilated and shaded, with incredible views over Dubai and the Gulf.
ARCHITECTURE
Kohn Pedersen Fox Associates (KPF)
The visual identity of Atlantis The Royal mediates between the classic form of the nearby Atlantis, The Palm Resort, and the progressive architecture of Dubai, visible on the coastline running to the northeast. The building's two terraced towers step down towards one another to meet through the sky bridge, which features dramatic views of the Gulf and Dubai skyline. The bridge is punctuated with pools, lounges, and other amenities that create a lush oasis stepping down to the tranquil Palm Island lagoon. A principal highlight of the building design is the structure's double curvature façade. The elegant composition and stepped profile create exterior views unlike any other property in Dubai. The views northwards are an uninterrupted scene of the Arabian Gulf and the horizon beyond. Looking southwards is the breathtaking scenery of the Palm Island, expansive beaches and the Dubai skyline. A key and central element to the design are the resort's Skypool Suites. These rooms feature vast elevated terraces, each with its own private outdoor pool and architecturally landscaped gardens. The pool's careful positioning provides maximized views both inside, under water and outside of the pool, while still maintaining complete privacy. Similarly, each of these private pools has been carefully positioned providing maximum frontage across the balcony, giving guests an interrupted view from inside the water.
INTERIOR DESIGN
Sybille de Margerie
The luxury interiors of Atlantis The Royal are designed by Sybille de Margerie, one of the world's leading interior architects. Her ambition was to modernise the traditional, make technology attractive and design for harmony and comfort. Her goal was to provide a different luxury experience that is refined and timeless. Five women were selected to handcraft original aspects of the interior design including porcelain, embroidery, fabric and textiles. Their mastery of craftsmanship and hands have become instruments of their imaginations for drawing, sculpting, engraving, inlaying, and creating an array of objects and precious finishings. With luminous metalworks mixing glass pearls and metal mesh, gilded walls with 22-carat gold wave silhouettes and hand-crafted textiles adding curves and geometric dimensions, the design options are fascinating and fabulous.
FOUNTAINS AND WATER FEATURES
WET Design
The architecture, water views, context and the Atlantis brand were all inspiration source points for the design process of WET's fountains and water features, with the location of the resort on The Palm creating a constant visual connection to water with the bay and The Gulf on either side of the property. WET aimed to make the connection to water physical so visitors felt as if they were always surrounded by water. The connection is made through a series of water fountains along the resorts main axis that guide visitors from its entry to their climactic finale, the Horizon and Skyblaze feature. The fountains highlight the power of water's presence and its effect on us whether creating quiet, contemplative moments or the spectacular. Collectively, the combination of water and fire together in so many features in one location is something never done before anywhere else in the world.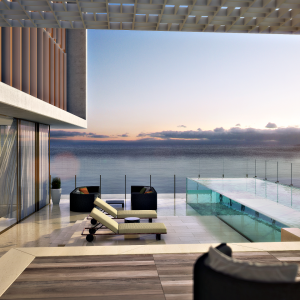 STAYS: ROOMS, SUITES & SIGNATURE SUITES
Atlantis The Royal is home to some of the most elegant hotel rooms and suites in Dubai, designed to immerse guests in absolute comfort and unparalleled luxury. Soaring 43 storeys (185 metres above sea level), the interiors represent the absolute pinnacle of modern contemporary opulence, embodying illuminating materials and hand sculptured textures, leathers and geometrics to frame walls.
795 rooms and suites spanning three towers: Sunset Tower, Sunlight Tower and Sunrise Tower
693 standard rooms: Seascape, Palmscape and Royal Club
102 suites: Sky View, Sky Terrace, Sky Pool Villa, including Signature Penthouses
6 signature Penthouse: Skyscape Penthouse, Horizon Penthouse, Panoramic Penthouse, Royal Mansion
44 Suites and Penthouses with a pool: Sky Pool Villa, Skyscape Penthouse, Horizon Penthouse, Panoramic Penthouse, Royal Mansion
8 accessible rooms
Room benefits include daily complimentary access to Atlantis Aquaventure, The Lost Chambers Aquarium and Kid's Club, pool and beach access and usage of the fitness centre, gym and wet facilities.
DINING: A CULINARY DESTINATION
Atlantis The Royal has gathered some of the finest chefs in the world to offer guests and visitors a dining experience like no other. With eight celebrity chef restaurants to choose from as well as unforgettable entertainment destinations such as Cloud 22 Sky Pool Bar and Ling Ling, Atlantis The Royal joins Atlantis, The Palm as the culinary destination in Dubai.
17 restaurants and bars including:
8 celebrity chef restaurants
Dinner by Heston Blumenthal Contemporary British- Modern dishes inspired by a gastronomic insight from Medieval (c.1300) to Victorian (c.1800)
Jaleo by José Andrés Spanish Tapas- Traditional and cutting-edge nuevo tastes of Spain
Ariana's Persian Kitchen Persian- Fresh, modern take on Iranian cuisine
La Mar by Gastón Acurio Modern Peruvian- The first traditional cevichería in Dubai
Estiatorio Milos by Costas Spiliadis Mediterranean- Vibrant flavours of Greece with fountain views
The Little Venice Cake Company by Mich Turner- Patisseries, breads and bakery-Baker to royalty and global celebrities
Nobu by the Beach- Japanese Peruvian- Nobu operated pool & beach club, world with an outdoor sushi bar
2 signature restaurants
Malibu 90265 American
Gastronomy Food Hall
4 nightlife and entertainment
Elements Cocktail bar  
Ling Ling by Tao Group Hospitality- Modern Pan-Asian- Day to night venue with 180-degree panoramic views of Dubai
Cloud 22 Skypool
Resonance by Heston Blumenthal Cocktail Bar
1 café
House of Desserts Waffles, crepes, ice cream
2 bars and lounges
Seascapes Beach Bar
The Royal Tearoom Tearoom
1 Food hall
Food Marquet International Cuisine
ENTERTAINMENT: AN ENTERTAINMENT DESTINATION
Atlantis The Royal has gathered some of the some of the world's leading hospitality groups to offer an entertainment offering unlike any other.  With five hero experiences including Cloud 22, Elements, Ling Ling by Tao Group Hospitality, Nobu by the Beach and Resonance by Heston Blumenthal, Atlantis The Royal joins Atlantis, The Palm as the entertainment destination in Dubai.
5 nightlife and entertainment venues
Elements Cocktail bar  
Ling Ling by Tao Group Hospitality- Modern Pan-Asian- Day to night venue with 180-degree panoramic views of Dubai
Cloud 22 Skypool
Resonance by Heston Blumenthal Cocktail Bar
Nobu by the Beach- Japanese Peruvian- Nobu operated pool & beach club, world with an outdoor sushi bar
Unique entertainment experiences
Watch the world's only fire and water fountain from the terrace of Milos
Sip on a cocktail whilst floating in Cloud 22's infinity pool 22 stories in the air
Sunbathe to live DJ's at Nobu by the Beach, the brand's first pool and beach club
Try Heston's latest cocktail creation as you watch 4,000 jellyfish swim in the world's largest jellyfish tank
Dance into the night as you look over the skyline of Dubai from Ling Ling, 23 storeys in the air
ATTRACTIONS: UNLIMITED ENTRY TO THE WORLD'S LARGEST WATERPARK
All stays at Atlantis The Royal include complimentary access to Atlantis Aquaventure, one of the largest waterparks in the world. Here guests can discover excitement the entire family can enjoy – with a total of 105 slides and attractions to get the hearts racing and private cabanas for that moment of calm.
22.5 hectares of waterpark
79 rides and attractions
26 marine experiences and watersports
105 total slides, attractions and experiences
26 F&B outlets
1km Atlantis Aquaventure beach to
1000 sun loungers available
500 Ellis and Associates trained lifeguards
Unique marine experiences
One of the largest jellyfish tanks in the world (4,000 jellyfish)- Resonance by Heston Blumenthal
The Lost Chambers Aquarium- The largest open-air aquarium in the region (65,000 marine animals)
State of the art, educational marine mammal facilities- Dolphin Bay Sea Lion Point
Unforgettable activities, including Aquatrek, Scuba Diving, snorkelling
Mini, junior and master marine biology programmes
Fish Tales Tour and Dolphin Tales Tour to learn more about how we are for our marine mammals
Underwater yoga
AWAKEN: HALF A HECTARE OF TRANSFORMATIVE WELLNESS
AWAKEN aligns to each guest's unique quest for mindfulness, health and happiness, awakening all elements of true nature – body (earth), mind (fire), emotion (water), and spirit (air). Each service is curated to unlock a spiritual alchemy and align to one's higher self, taking guests from self-exploration to self-realisation.
Located at the lower ground level of Atlantis The Royal, AWAKEN includes both indoor and outdoor facilities consisting of 17 therapy, VIP, and specialty suites, which feature fireplaces, floor to ceiling marine life tanks, personal styling studios for men and women and so much more. The Hammam Sensorium showcases bathhouse culture in a new light with services inspired by Traditional Arabic Integrative Medicine (TAIM), making it immersive and sensorial.
The Elements Circuit moves beyond the usual spa wet area by creating a purposeful experience circuit that purifies and resonates with each of the elemental bodies – Fire for the mind featuring a charcoal sauna and tepidarium, Earth for the physical body with Halotherapy Salt Rooms and grounding Meditation Gardens, Water for emotional release in the Hydrotherapy Pool, Snow Sauna or Alchemy Shower and Air to lift your spirit in the Aromatherapy Steam and air loungers.
AWAKEN Fitness gives guests the opportunity to be athletic, be agile and be active while on holiday. With indoor and outdoor options, guests can expect group exercise classes, a movement studio, a 25m lap pool with aquatic training and beach-camp HIIT sessions along the 2km stretch of beachfront.
Size: 5,045 square meters (3,344sqm indoor/1,701sqm outdoor)
Location: Lower ground level of Atlantis The Royal
Treatment rooms: 17 (15 therapy and VIP suites and 2 speciality suites)

2 Specialty Suites – Elite Spa & Clinic Cryo Programmes
1 VIP Therapy Suite with private access
14 Single Therapy Suites with 2 Double Therapy Suites (converted)
Hammam Sensorium: 6 rooms
Vegan: The spa is 100% cruelty-free, plant-based and vegan
Partners: Dr. Barbara Sturm, 111Skin, 111Spa/Clinic, Amra, Dr. Augustinus Bader and Subtle Energies
Unique Services:

Alchemy Gold Massage by AMRA – 24kt gold stone massage
Moon manifestations
Family wellness packages, including custom made massage beds for kids aged 8+
Night rituals – night-time only treatments
Sound immersion and hypno-healing
All therapists trained in reiki energy healing
MICE, EVENTS AND WEDDINGS
Two unique properties anchored on the crescent of the Palm, Atlantis Dubai shake up the world of luxury MICE, transporting the meetings, events, and incentive travel market to a new league. With spaces of all sizes that lend themselves to a range of buzz-worthy events, spontaneous interactions and private meetings, every engagement is bespoke, exciting and memorable.
With its striking lobby home to one of the largest jellyfish tanks in the world, along with the city's most dramatic sky pools and some of the region's most exciting new restaurants, the diverse range of entertainment and networking spaces at Atlantis The Royal provides novelty and inspiration for all attendees. The ultimate destination to mix business with pleasure, guests, clients and delegates benefit from an all-encompassing event experience in a transformative space where doors are opened to a whole new destination. A place where extraordinary things happen, here the impossible becomes possible.
Diamond Ballroom 1,000 square metres (332m2 per space)/660 guests
Business Centre 6 meetings rooms (Amber, Opal, Quartz, Onyx, Sapphire and Emerald)/ 29-84 square metres /12 guests
Diamond VIP Lounge 80 square metres /20 guests
Diamond Bridal Lounge 48 square metres /20 guests
Outdoor Event Lawn 4 event lawns (Residence, Fountain, Conference and Spa lawn)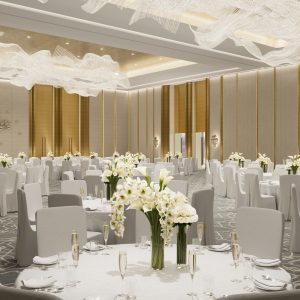 I published a video about Royal Atlantis in Facebook
Please send your booking request or MICE request to:         booking@emirate.de